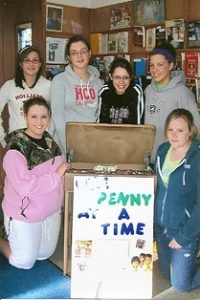 In the Upper Peninsula of Michigan the Sisters of St. Paul de Chartres and the Companions of St. Paul have decided to assist with four projects:
Locally
1. Catholic Schools in the Upper Peninsula of Michigan
We know of parents who are struggling to keep their children in a Catholic School so we will continue to help the Catholic Schools of the Marquette Diocese to provide scholarship for a student(s) who cannot afford the tuition.
In the United States
2.Victims of Human Trafficking
We are helping the Coalition of US Catholic Sisters Against Human Trafficking (USCSAHT)
Globally
3.Haiti
You are all aware that Haiti is one of the poorest countries in the world and the earthquake has made living conditions more difficult. The Sisters of St. Paul of Chartres has seven schools in Haiti where school supplies, equipment, student's tuition and teacher's salaries need support. There are on-going needs of supplies and medicines for health clinic and our orphans continue to have need as the cost of food and living is escalating.
4.Central Africa
Our Sisters do not always have their basic needs met and need help with this. They need food and other supplies for their health and personal hygiene as well as to help others.
We would deeply appreciate your support for our projects for the Catholic Schools, victims of human trafficking, for Haiti or Central Africa. You may donate money that will be divided between the projects or you may donate for a specific project or a specific purpose. Just indicate on the envelope what your intentions are. Thank you in advance for your generosity.
We ask you to be as generous as you can as this is the call of Jesus in the Gospels. Remember: "Whatever you do to the least of my brothers and sisters, that you do to me."
We are deeply grateful for whatever donation you can make.                                                                
You may write at:
Sisters of St. Paul
de Chartres
1300 County Road 492
Marquette MI 49855

or email Sr. Mary Ann Laurin at:
srstpaulweb@yahoo.com

or contribute to:
Compassionate
Heart's Club
(Click logo to learn more)
r.